Froze Over in South Dakota – Hunt Smarter to Stay Warm
As an avid whitetail hunter, if there is a season open I'm usually trying to figure a way to go hunting.
When the temps drop down below zero it can become downright brutal to hunt in, but if you can find ways to make it work, it can also be some of the best hunting you've ever seen. This was the exact case on a recent late season South Dakota hunt.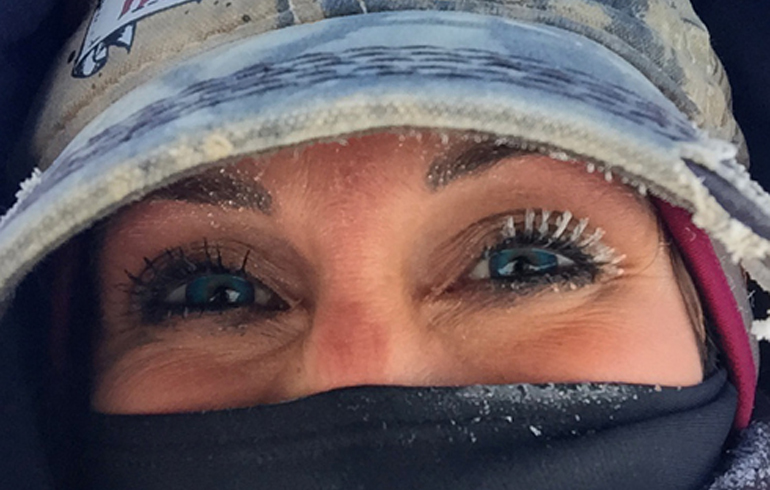 I decided to try and head back to South Dakota the day after Christmas to film an episode of Winchester Deadly Passion with Graig Hale from the Sportsman Channel. This was not going to be your easy everyday hunt. I had been out to the property earlier in the year and setup numerous blinds and stands but looking at the weather I decided it was going to be nearly impossible to sit a treestand. We were going to be hunting with Cody Warne, with Warne Ranches. The thing I love about hunting at Cody's is you get an archery lease that is good for the entire season. So, it's really up to you and your schedule as to when you want to come out. I had put several ground blinds and treestands up earlier in the season, but Cody had put out numerous hay bail blinds for late season hunting that we were going to make good use of.
The highs each day were in the single digits and the lows were dipping well below zero with 20-30mph winds to top it off. Basically, it's a recipe for frost bite if you're not careful. The other thing – it can be a recipe for is incredible hunting because many of the deer begin to bunch up and if you can get right in the middle of them the hunting can be absolutely amazing.
The plan for South Dakota was to sit in blinds with a heater. I was hoping the blinds would protect us from the wind and to make it even more insulated. All the blinds not only looked like big hay bails, but they were completely lined with hay from the inside out. We had a thick layer of hay on the ground and then all the sides were also covered in hay. We kept all the windows shut and just would peek out the side windows Not only does this help contain any movement, scent, or sounds but it also helps keep in much warmer. Just because it's freezing outside doesn't mean you have to hunt in the elements. I'd highly recommend any late season hunters to try making their own hay bail blinds. The concept works great as they can be dropped in an area where deer frequent and usually don't bother the heard at all.
The real trick is getting to and from the blind. We had a little over a mile walk in and out each day so the most difficult part was layering up. We didn't want to get too hot and sweaty going in but you also needed to protect skin. Just the breath coming up from masks was enough to cause our eyelashes to completely freeze over! It took a couple days to get the right layering system together, but once we had it figured out we were in great shape. The deer were literally surrounding the blind and made for some of the most exciting late season hunting I've ever seen. This was proof if you figure a way to get out in the elements and hunt, you can end up with some of your very best hunting in the late season. In the end we didn't end up tagging out on a buck, but unquestionably it was the best deer hunting I had ever seen. At any given time you could see between 200-300 deer. Truly an amazing experience even with the cold temps.
Melissa Bachman
With a degree in broadcast journalism, Melissa set sights on a career in the outdoors. Traveling over 300 days a year to shoot for Winchester Deadly Passion, Bachman considers this her "dream job." With a love for children, industry trade shows and the great outdoors, she films around the world for her adrenaline-pumped series.