Finger Food – Easy to Make Wild Game Small Bites
I'm not a fan of holiday parties. They get in the way of getting some sleep before heading out early to the duck blind.
My hunting partners don't look favorably at late arrivals. Whether I like it or not, parties happen and it's usually best to make a contribution beyond a bag of chips and store-bought salsa. Here are a few of my favorites.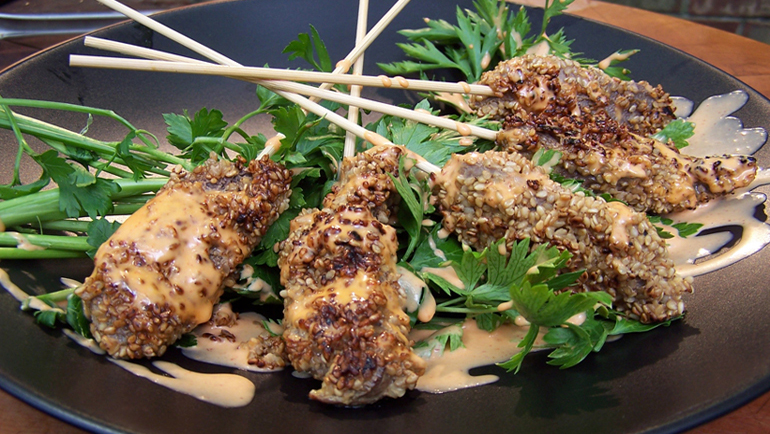 Quail Breast and Prosciutto

This recipe also works well with chunks of pheasant or chuckar breast.
8 boneless quail breast halves, skin on or off
2 tablespoons olive oil
1 tablespoon Italian seasoning
salt and pepper
8 thin slices prosciutto
8 1/2-inch cubes hard cheese (like Swiss, gruyere, dry Jack, etc.)
8 small wooden skewers soaked in water for 30 minutes
Combine quail breasts, olive oil, Italian seasoning and salt and pepper in a small bowl. Toss to coat, cover and refrigerate for 1 – 2 hours.

Lay prosciutto slices flat on a clean work surface or cutting board. For each slice, place a quail breast half on one end of the prosciutto. Place a piece of cheese on the quail breast and top the cheese with another quail breast half. Roll up the prosciutto snugly and secure with a skewer, making sure that you spear through both ends of the prosciutto and the cheese. Place on a medium hot grill until lightly browned on all sides and quail breasts are just-cooked and still slightly pink.
Dove, Mango and Bacon
This is a variation on the standard dove wrapped with jalapeno pepper and bacon.
16 – 20 boneless dove breasts
1/4 cup olive oil
1 teaspoon sesame oil
1/4 cup soy sauce
1/4 cup rice vinegar
2 tablespoons brown sugar
1 teaspoon freshly ground black pepper
1 tablespoon Tabasco
1 slightly underripe mango
12 – 15 strips bacon, cut in half and partially cooked
small wooden skewers, soaked in water for 30 minutes
Combine olive oil in a bowl with next 6 ingredients. Add dove breasts, cover and marinade for 2 – 3 hours.
Remove breasts from marinade and pat dry with paper towels. Peel and seed mango and cut into strips. Lay out bacon strips. On each strip lay a slice of mango and a dove breast. Wrap snugly with bacon and secure with a toothpick. Grill or broil until bacon is done and dove breasts are rare to medium-rare.
Sesame Duck with Spicy Mayonnaise
If your ducks are dark-fleshed divers, double the marinade time. I never cook any ducks or duck parts without an overnight soak in a saltwater brine. Combine 1/2 gallon water with 1/2 cup coarse salt. Heat some of the water in a saucepan and stir in salt until dissolved. Cool completely before adding duck to brine and keep refrigerated while brining.
2 cups duck breasts, skin removed
1 cup soy sauce
2 tablespoons toasted sesame oil
1/4 cup rice vinegar
2 tablespoons apricot preserves
1 teaspoon fresh ground black pepper
1/2 cup Dijon mustard
1 cup sesame seeds
vegetable or peanut oil
12 – 15 wooden skewers, soaked in water for 30 minutes
Spicy Mayonnaise
1/2 cup mayonnaise
1 teaspoon toasted sesame oil
1-2 tablespoons Sriracha or any hot sauce
1 teaspoon lime juice
Slice duck into finger-width strips. Combine soy sauce with next 4 ingredients in a medium bowl. Add duck and toss to coat. Cover and marinade for 4 – 6 hours.
Whisk all Spicy Mayonnaise ingredients together until smooth.
Remove from marinade and coat with mustard. Roll pieces in sesame seeds. Heat a thin layer of oil in a medium heat skillet. Add duck and brown lightly on all sides, about 3 – 4 minutes total cooking time. Remove duck and skewer with wooden skewers. Arrange on a platter and drizzle Spicy Mayonnaise over.
VIDEO: I show how to make something that tastes remarkably like a shrimp cocktail.
Scott Leysath
Quite possibly the best chef you've never heard of…that's Scott Leysath. Known for many things as well as being an executive chef, he's also known as host of the Sporting Chef on television as well. He's an avid hunter/angler who has developed a cult-like following over three decades of recipes, public appearances, cooking columns, cookbooks and TV shows.