Home for the Holidays – Roast Beast
Back before electricity, when I started spending time with my wife's extended family during the holidays, I would sit back and observe three generations of women getting all worked up over meal preparation.
And as many times as they had all made the exact same dishes, they relied on well-worn recipe cards to make sure that everything was cooked just right. When I mentioned that they could probably get the job done without the recipe cards, they gave my future mother-in-law a look that said, "We don't really like this kid."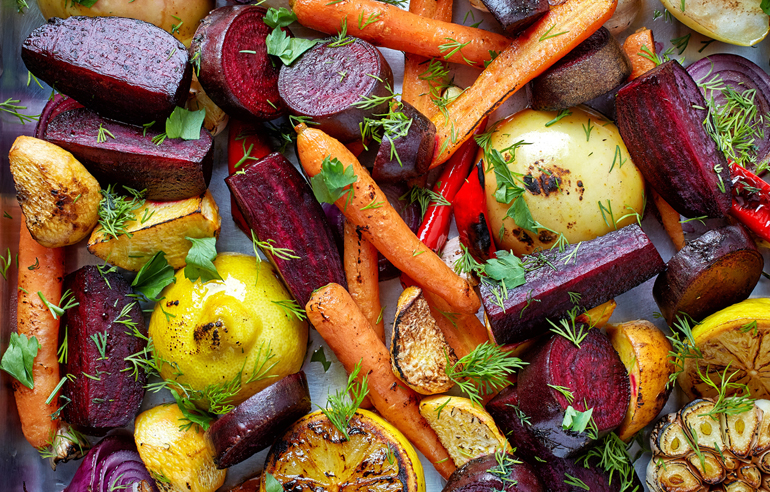 You could feel the tension in the kitchen. It seemed like one of the goals was to talk as loud as possible and everyone at the same time. I thought, "there must be an easier way." But for them, it was the easiest way. I really think that they enjoyed the stressful part. It was kind of like getting yourself worked up before a big game. "Loretta, are the raviolis ready?" "Carmen, your rolls should be in the oven by now." "Get Jerry in here to carve the turkey…stat."
I started a less complicated Leysath holiday meal plan many years ago. After struggling to find a place to cram six different kinds of leftovers into the fridge, I decided that future holiday feasts would be served much like any other. Our meals are plated, rather than served family or buffet-style. We eat seasonal, usually locally-sourced fruits and vegetables and leave enough room for dessert. So far, we've been able to make it without a green bean casserole, Jello mold or that yam and marshmallow thing. Of course, if that's your thing, go nuts. I'm just saying that there are options and cooking for a crowd doesn't have to be stressful
My perfect holiday meal includes a salad, a properly cooked piece of meat, roasted seasonal vegetables and potatoes and plenty of Michael David wine to wash it down. A few years back, my oven crapped out on Christmas Eve and I prepared the entire Christmas dinner in my Camp Chef smoker. Prime rib, roasted root vegetables, mashed potatoes and more…all done without 2 ovens and with minimal mess in the kitchen.
Roasted vegetables will take about as long to cook as a 3-pound venison roast. After rubbing the roast liberally with olive oil and seasonings, place into a preheated 400-degree oven until well browned on the top. Reduce heat to 350, place the vegetables into the oven as well. Once the internal temperature of the roast reaches 130 to 135 degrees, it's medium-rare and ready to rest at room temperature for 15 minutes or so. While resting, loosely tent the roast with foil to retain the heat. Keep roasting the veggies until they are evenly browned on all sides. If desired, you can make a tasty pan sauce by deglazing both the pans (venison and veggies) with red wine and a splash of balsamic vinegar. Once plated, spoon a little sauce over the meat.
If you are serving just a few folks, you can combine meat and vegetables in a cast iron skillet and brown them over medium high heat. Once browned, place into a preheated 375-degree oven until the meat is just done, but not overdone.
Roasted Fall/Winter Vegetables
Carrots, potatoes, beets, winter squash, onions, garlic, etc. peeled and roughly chopped
olive oil
salt and pepper
Preheat oven to 350 degrees. Arrange vegetables on a lightly greased baking sheet. Roast until evenly browned.
Scott Leysath
Quite possibly the best chef you've never heard of…that's Scott Leysath. Known for many things as well as being an executive chef, he's also known as host of the Sporting Chef on television as well. He's an avid hunter/angler who has developed a cult-like following over three decades of recipes, public appearances, cooking columns, cookbooks and TV shows.