A Big Illinois Buck For Mom
Now we may not sit together on stand always, but we spend the time together in camp and always have a wonderful trip regardless of the success.
Hunting has always been a family tradition in our household in central Minnesota. Although we didn't have the biggest bucks or the most abundant supply of ducks, we still enjoyed the moments and memories and continued to find ways to enjoy our time together as a family.Since growing up and moving a couple hours from my parents, we don't get to spend as much time together anymore so I always try to plan a couple hunts a year where I bring my family along.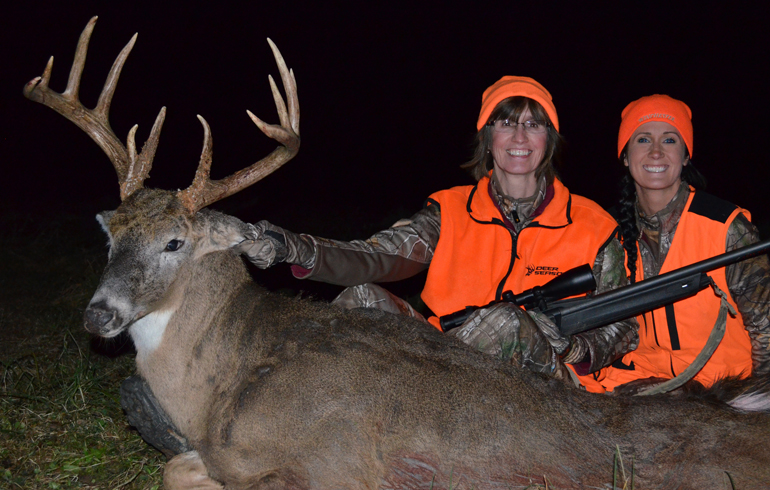 Last year I was able to take my brother and dad on a snow goose hunting trip. We had a blast and shot a fair number of geese. I also brought my mom along with me to Montana where she was able to take her first antelope with a bow. I sat with her in the blind and we had a wonderful time and to see her practice and dedication pay off was better than any buck I could have ever taken.
Another trip we try to do each year is hunt in Illinois together at my favorite whitetail destination, Golden Triangle Whitetail. I've taken more big bucks on this property than anywhere else in the country. Not only is the hunting amazing, but the people, the lodge, the guides, you name it. It's a first class operation with big bucks as well. With this in mind, you can't get lucky every year. As much as I wish there was a big buck hiding behind every tree there just isn't. My dad has had success there. I've had success there, and last year my mom also shot a nice buck on the first morning of the trip.
Fast forward to this slug season. I had been on a trip and rolled in about 2am trying to unpack my truck, rearrange my gear and get ready for the morning hunt. My parents were already in camp, settled in and ready to get out hunting. My mom was shooting a Winchester SX3 with Winchester Dual Bond slugs, the exact same setup I would be using. We were planning on hunting the same farm, but would be sitting about a half mile apart.
The first day was incredible – I had deer all over the place in a bean field but unfortunately no big bucks. My mom, on the other hand, was sitting on a huge corn food plot. We had Cuddeback pictures of nice bucks frequenting both fields, so I knew we both had a great chance.
That afternoon she immediately had deer in the field. At one point, she said she wasn't sure where she should even watch because there were deer entering the field from every direction. Well finally a nice buck stepped out onto the field. When I say nice buck, I mean a really nice buck. Mom didn't get too excited – which was good. Instead, she held her composure, took a good rest and made a perfect shot. She dropped a huge buck right in the field with her slug gun. I heard the shot and only moments later got the call that she had shot a huge buck The coolest part was as soon as I saw the buck I knew that just two days earlier we had seen this buck on a Cuddeback right off the field she was hunting during daylight hours. Of course that doesn't mean the buck will come out again, but a nice way to see your scouting pay off!
As much as I love shooting big bucks, there really is something to be said for watching someone you love and care about find success as well. I've had the privilege to take nice deer and it never gets old, but to see her excitement couldn't have been me any prouder. That's my mom. Her and my dad have taught me so much. They've been there for me throughout the years, and it's just such a wonderful thing to enjoy hunting as a family. The best part is, we even grilled up a roast from her deer for our traditional Christmas dinner. No better way to bring hunting full circle than to enjoy a wonderful meal together over the holidays.
Melissa Bachman
With a degree in broadcast journalism, Melissa set sights on a career in the outdoors. Traveling over 300 days a year to shoot for Winchester Deadly Passion, Bachman considers this her "dream job." With a love for children, industry trade shows and the great outdoors, she films around the world for her adrenaline-pumped series.