Celebrating 150 Years of Winchester: The First 50 Years
Celebrating 150 Years of Winchester: The First 50 Years For 150 years, Winchester has created products essential to the early expansion and defense of this country, the protection of our communities by law enforcement and lifetimes of enjoyment and success in the outdoors.
But to truly appreciate just how far Winchester has transformed the American landscape not just for sportsmen, but for all people who enjoy a life of freedom and safety provided by our soldiers deployed around the world and the police officers who work our country's streets, it's important to note some of the key dates and developments throughout the company's earliest days. Here's a look at what took place the first 50 years.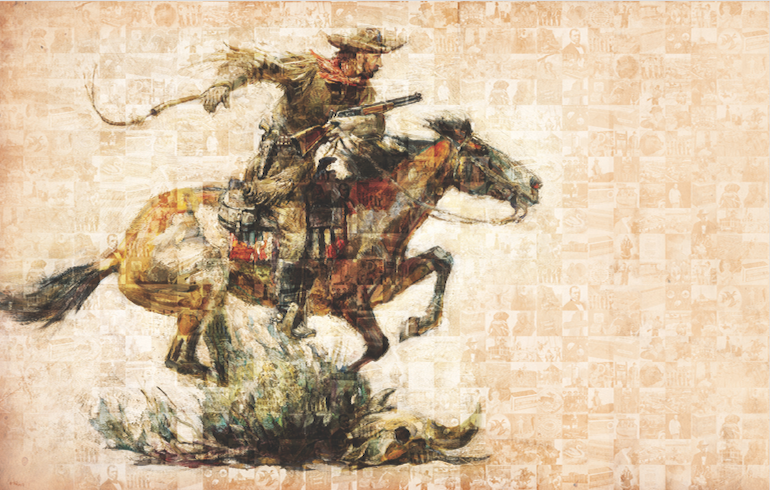 1866 – On May 22, Oliver Winchester establishes the Winchester Repeating Arms Com­pany to build the finest guns and ammunition possible.
1873 – The Model 1873 lever-action rifle is introduced in .44-40 WCF. Known as the "Gun that Won the West," more than 700,000 are produced.
1877 – Rival brand shotshell components for reloaders are first made by Winchester allowing handloaders to construct their own shotshells from Winchester components.
1878 – Winchester receives a patent for a folded type primer anvil for centerfire ammunition.
1883 – T.G. Bennett of Winchester pur­chases the manu­facturing rights for a new single-shot rifle designed by John M. Browning marking the company's first dealings with the legendary gun designer. That same year, "Buffalo Bill" Cody's favorite Winchester rifle is used for trick shots in his "Wild West Show." The show launched that year and would soon feature the most famous female shooter in history, Annie Oakley.
1886 – The Model 1886 lever-action rifle is intro­duced to handle the high-powered cartridges of the day like the potent .45-70 Government. That same year, the Rival brand of shotshell components made by Winchester begins loading and selling complete shotshells in 10, 12, 14, 16 and 20 gauge.
1893 – Winchester begins loading sporting cartridg­es with the latest thing in ammuni­tion — smokeless powder.
1894 – The Model 1894 le­ver-action rifle is introduced, becoming the best selling centerfire rifle in U.S. history.
1900 – Winchester introduces Repeater shotshells.
1903 – The Model 1898 breech-loading signal cannon is introduced. Chambered for a 10-gauge blank shotgun shell, it remains a Win­chester-branded product.
1904 – Winchester shooters Ad and Plinky Topperwein daz­zle visitors at the World's Fair in St. Louis. That same year, the Model 1902 single-shot .22 rimfire rifle is introduced and becomes famous as part of the Win­chester Junior Rifle Corps Range Kit.
1905 – Winchester begins using the famous W/P oval proof mark called the "Hallmark of Quality" and introduces Nublack brand shotshells.
1907 – The Model 1907 semi-auto centerfire rifle is introduced along with the new .351 Win­chester Self Loading smokeless cartridge.
1909 – Legendary sportsman and former president of the United States, Theodore Roosevelt and his son, Kermit, bring 15 crates of brand new Winchester rifles, ammunition and spare parts for a year-long African safari sponsored by the Smithsonian Institution. Many of his trophies taken during the safari remain on display in the Museum of Natural History today.
1912 – The Model 1912 pump shotgun is introduced and becomes one of the world's most popular and respected designs of all time. It particularly revolutionized waterfowl hunting for many sportsmen for years to come.
1919 – Artist Phillip R. Good­win creates an illustration of a cowboy on horseback with a lever-action rifle cradled in his arm as he rides. The illustration soon becomes the trademark for Winchester and the iconic image all sportsmen recognize as representing the company. That same year, the Model 52 rimfire bolt-action target rifle is introduced. It soon becomes the benchmark against which all other rimfire target rifles are measured.
1915 – The assassination of Arch­duke Franz Ferdinand of Austria the year before plunges Europe into World War I. In response and support of America's allies, Winchester produces nearly 250,000 Enfield Pattern Number 14 bolt-action rifles to equip the British Army in Europe and 300,000 Model 1895 muskets for the army of Czar Nicholas II of Russia.
Winchester Ammunition
A world leader in delivering innovative products, Winchester is The American Legend, a brand built on integrity, hard work, and a deep focus on its loyal customers.